Hello Lovelies! My name's Jelli and I'm visiting you today from Jellibean Journals. I'm so excited to be here. Many thanks to dear Katie for sharing a bit of her net space with me today to share with you a recipe for homemade it-doesn't-get-much-better-than-this Coffee Nutella Swirl Ice Cream.
A girl and her ice cream. That's an inseparable duo. A girl and her homemade COFFEE Nutella Swirl Ice Cream. Um-MAZE-ing good.
This is coffee. This is Nutella. This is blissfully light and creamy, smooth and hazelnutty.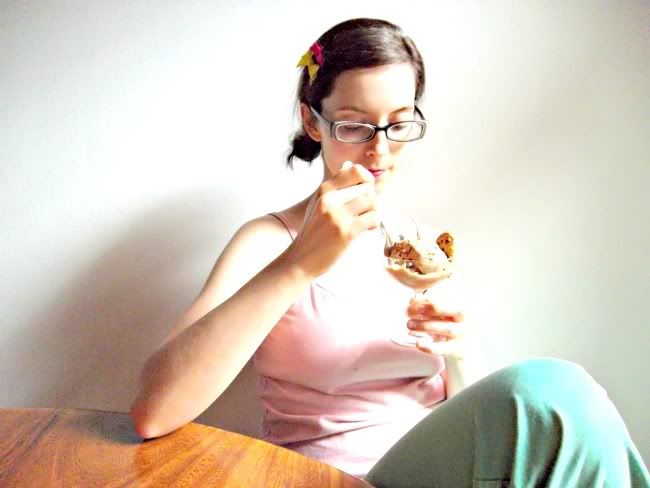 Coffee Nutella Swirl Ice Cream is my own brainchild, a recipe I concocted to thank some friends who welcomed our family into their home upon  returning from our Italy adventures. What a better way to share Italy than incorporating two of their famed culinary "greats" into ice cream? Grab your grocery list and a pretty colored pen and meet me back here, stat. Let's get our ice cream on!
Coffee Nutella Swirl Ice Cream
Ingredients:
2 T. cornstarch
2 yolks, lightly beaten
1/2 c. sugar
1 c. milk
2 c. cream, divided
3 T. coffee grounds
1 t. vanilla
1 c. Nutella
What to do:
Combine milk, cream, and coffee in a medium saucepan over medium-low heat. Heat to a simmer, cover, and remove from heat to let the mixture steep 15 minutes. Strain out coffee grounds.
Add sugar and cornstarch to milk mixture over medium-low heat and cook the custard base, whisking constantly until the mixture thickens to coat the back of a spoon. (Explanation here.)
Remove from heat. Stirring the yolks constantly, slowly temper the yolks by streaming in about one-third of the hot liquid into the yolks. Whisk yolk mixture back into the saucepan and return to medium-low heat, whisking constantly until mixture thickens a bit more or comes to a near-boil. Remove from heat.
Stir in vanilla and cool to room temperature. Refrigerate overnight.
Freeze ice cream custard in an ice cream maker (duh!) according to manufacturer's instructions.  Warm Nutella to a pourable consistency and slowly drizzle in while ice cream maker is still churning. Immediately stop the machine to keep the swirls intact. Transfer to freezer container and freeze until solid. Grab yourself a spoon and dig in. Sharing is purely optional.If you're craving more cool summer ice cream treats, or just wanna say hello, I'd love to meet you!

Jelli blogs about mommyhood, DIYs, and baking over at Jellibean Journals. She's a semi-SAHM in Costa Rica, loving on her little brown-eyed girl and praising God for the opportunity to work for Him alongside her specTACular husband. To make a long story short, her Prince Charming is a Tico, and they've made their cozy castle casa in the tropics..for now.